Feedback and Experiential Data Collection
Quantica Technologies helps organizations to deliver client, citizen, beneficiary and employee insights and analysis that improve results measurement, satisfaction and performance. We work with government agencies, multilateral agencies and donors to implement solutions that collect multilingual data and feedback for better decision making, to support research-based initiatives as well as to monitor, quantify and measure at scale progress and results across the projects portfolio.
Smarter Feedback Collection
Implement processes, tools and software technologies for collecting feedback including quantitative and qualitative data. Use machine learning to automatically analyze text feedback. Collect data on project outputs and outcomes, perception, satisfaction, address potential implementation issues or conduct large scale research-based studies and analysis.
Project Monitoring and Evaluation

Monitor, quantify and measure, remotely and at scale, the progress and results of projects implementation. Conduct process automation and get access to systems and software tools needed to collect, categorize, analyze and publish data and findings across multiple channels and languages.
Research Based Projects

Deploy multilingual online or offline surveys and feedback collections across multiple channels such as web, email, mobile or sms platforms, in multiple technologies. Offer cloud-based data publishing, categorization, warehousing, integration, data analytics and mapping for results and insights.
Employee Feedback

We support you in building innovative ways and in deploying the right processes, technology and tools to survey employees across multiple channels (web, email, mobile, intranet, SMS, phone, social, etc.)  and uncover their behaviors and sentiment across the organization culture and needs.
Omni-Channel Data Capture and Publish
| | | |
| --- | --- | --- |
| Capture signals at any touchpoint along client or beneficiary journeys | | Combine experiential with operational data |
| Deploy multilingual surveys across multiple channels | | Distributed decision making, feedback and ideas collection in real time |
| Use machine learning for text analytics at scale | | Publish interactive reports and dashboards |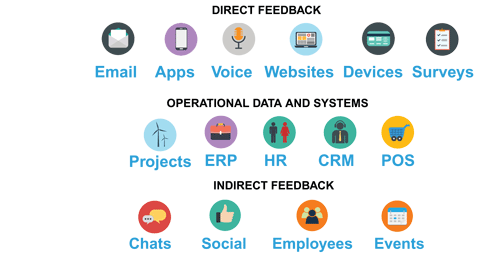 Products
| | | |
| --- | --- | --- |
| Multichannel feedback collection – web, email, intranet, SMS, mobile | | CRM to track survey recipients and demographics |
| Multilingual web based addressed and non-addressed surveys | | Word and Excel based surveys for offline data collection and mass extraction |
| Automated feedback collection based on triggers | | Analytics – interactive dashboards and reports on multiple technologies |
| Case management for survey follow up | | Custom website design for data publishing |
| | | |